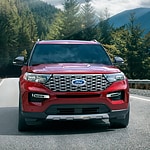 As one of the premier three-row SUVs on the market today, the new Ford Explorer has all of the design features that you need to be safe and well accommodated behind the wheel. Find out more about these features and how they are designed to cater to you today.
Few things are as annoying or dangerous while driving than poor lighting. You need to be able to see where you are going to avoid being in an accident. The new Explorer from Ford comes with adaptive LED lighting. The headlights adjust themselves to ensure that your path ahead of you is well-lit and easy to see, even if you are driving in inclement weather like heavy snow or rain.
The new Explorer also is large enough to accommodate up to seven passengers. Each individual seat provides enough space for full-grown adults. The side seats fold to allow for access to the back row.